Your Christmas tree has arrived, you've positioned it in your favourite stand, and you've rearranged the contents of your living room to find the 'perfect spot' for the focal point of the festive season… Now what? It's time to add some personality! 
There's something to be said for surrendering to all the excitement of the holidays, and decorating your Christmas tree is the first step to getting in the festive spirit. Whether you love to decorate the tree with your loved ones, take a moment of peace alone or invite friends around to get the job done over a glass of wine and a great Christmas playlist, our how-to guide will take you through the steps required to ensure your tree looks great throughout December.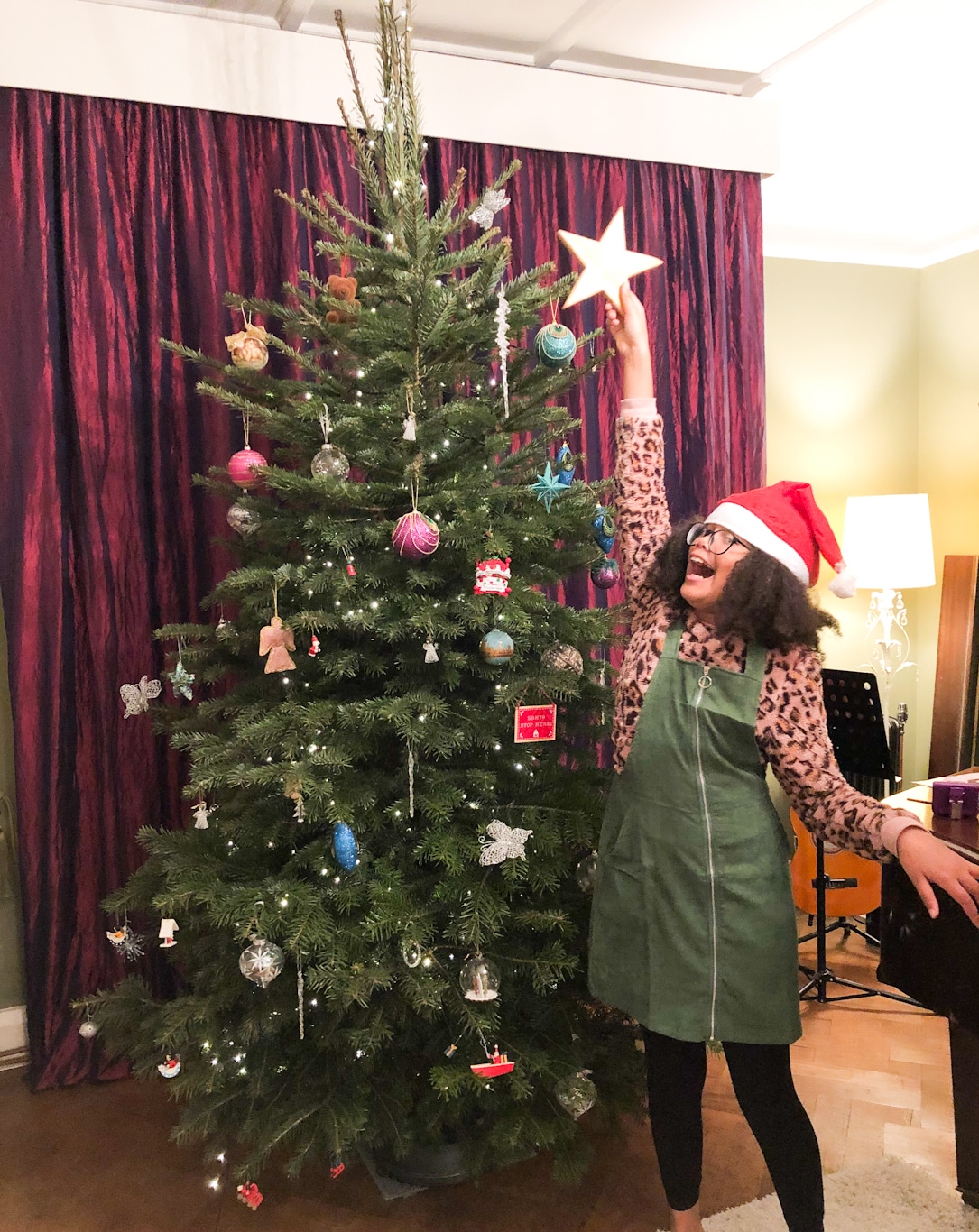 Getting started
There's nothing better than a real Christmas tree for the festive season, but there's nothing worse than bare branches and a carpet full of needles come the big day! Our trees have excellent needle retention as they're cut not long before they're sent to your doot… But to ensure your tree holds its needles as best it can, before you even start decorating read our guide on How To Keep Your Christmas Tree Fresh.
🎄 First things first: Place the tree in a bucket of water outside and cut off the netting to allow the branches to settle overnight. 🎄
        Shape your tree
Our real Christmas trees are cut fresh in the Sussex Weald for the best possible quality, but as each tree is a unique natural product, you might need to give it a little shaping before it takes pride of place in your home. Once your tree has settled outside, take a look at any particularly bushy sections or stray branches and cut as appropriate until you have the shape to suit your home.  Before taking your tree into the house, give it a good shake to shed any loose needles. Once inside, place your tree in a container or stand that you can top up with water throughout the festive period to keep it looking fresher for longer. 
        Choose your theme 
Whether you're drawn to sparkly ornaments, love to colour-coordinate or have more of a relaxed approach to embellishing your tree, it's essential to establish your 'theme' early on. Do you want a monochromatic system? Are you interested in matching your tree décor to your home décor? Do you love all things traditional? Or do you have a family box of decorations that the children have made over the years? Whatever you decide, lay out your baubles, streamers, tinsel and toppers to establish the general direction of your Christmas tree theme. If you're decorating with children, encourage them to work the whole tree, not just what's at their eye level; otherwise you may end up with a highly concentrated area of tinsel!
        Add the lights 
The lights should be the first thing you put on your Christmas tree. Make sure you have enough lights to wrap around each layer of branches, starting at the bottom and working your way up to the top. We recommend you arrange your lights while they're plugged in so that you can see the twinkly pattern you're creating as you go along.. The lights should sit slightly closer to the trunk than the decorations to peek through the branches and add a warm glow to the room.
         Consider your tree's branches 
With a Norway Spruce, Blue Spruce or Sussex Fir, you're unlikely to have many gaps to fill as these trees are typically pretty bushy & have more upright branches. Trees like the Nordman Fir, though, grow with naturally tiered levels of branches – creating an opportunity to add floral fillers, such as silk flower sprays, leaf bunches, leaves, holly, pine cones and more to fill out your tree. If you like tinsel or garlands, this is your opportunity to go crazy! 
        Add the main baubles and ornaments 
The 'main' baubles are the ones that set the tone for your tree. You've already selected your theme and got everything out in front of you, so pick your core ornaments – starting from the largest – and arrange them evenly throughout the tree. Metallic tones are great here for providing a foundation for other colours, and they mirror the lights to give a subtle glimmer. 
🎄 Top tip: tie the baubles in place if the thread is a little too long, or even to just keep them firmly in place (you'll thank us if you have pets or children in the house!) 🎄
        Add some accents
Whether you're sticking to a colour scheme or not, adding some subtle accents gives your tree depth and personality. This is your opportunity to add everything from complimentary baubles to those one-of-a-kind ornaments you've collected on your travels to glitter-encrusted candy canes the children made in school. Choose decorations that spark joy and make your home feel magically festive. 
        The finishing touches
At this point, we like to pour a glass of wine (if you haven't already!), grab a mince pie, and add the finishing touches. A sprig of holly here, a bundle of mistletoe there, or a sprinkling of chocolate decorations that will never make it until Christmas morning, and then… the topper. Whether you go for a classic star, an elegant angel or something a little less traditional, this is the crowning moment of your Christmas decorating. The cherry on top, if you will. Now, stand back and admire your beautiful tree – cheers! 
🎄 Pro tip: to compliment your tree even more, consider coordinating your wrapping paper to your theme!  🎄
There's no greater tradition than decorating the Christmas tree. To us, it symbolises the start of the festive season and is an opportunity to bring a little bit of nature (including the unmistakable scent of pine) indoors. Never let trends (or friends) dictate how you decorate your tree at Christmas time – just go with the theme that makes you feel happy! You can also adorn the outside of your home with a beautiful wreath to welcome guests, or make your own using leftover branches from your Christmas tree.
Looking for some inspiration for themes for your tree this year? Follow us on Instagram to see what other fellow Send Me A Christmas Tree customers have done, and don't forget to tag us in a photo of yours! @sendmeachristmastree