Send Me a Christmas Tree are offering free weekday delivery for all orders made online (UK mainland only).
Please note that we use a national courier to deliver the trees,  so specific instructions such as delivery times cannot be observed.
We use the courier Tuffnells – we despatch trees a day before your preferred delivery date, so if this has passed please contact Tuffnells directly – you can find details for your local depot here.
Note that some Scottish postcode areas are not included with free delivery (see delivery zones on the right).
We aim for next day despatch on mainland UK for orders placed before 12am during the working week*, Fridays excepted. You don't have to have your tree delivered right away – you can choose any weekday date until 22nd December for the tree to be delivered.
In the peak time (generally early December) the delivery time may increase however we will do our best to get your tree to you as quickly as humanly possible.
Please note – we cannot currently deliver free on weekends. Orders made in time for Friday despatch (order must be made by Thursday 12pm) will arrive the following Monday. Please also note that the date chosen on checkout is a preferred date only and we cannot guarantee that your order will arrive on the chosen day itself. Orders made after 12pm on any given day may not be eligible for next-day despatch.
If you'd like more than 5 trees delivered to you please use the contact form for a special quote.
The final despatch date is 21st December, so no deliveries will be made later than 22nd December. No orders can be made after 10am on the 20th December.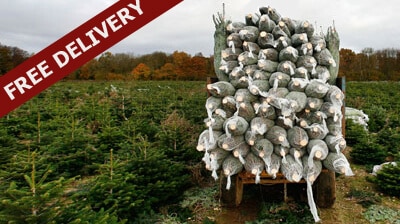 Important points to note:
We offer a preferred delivery date choice at checkout, but it's very important to note that this cannot be guaranteed. If you need the tree by a certain date we recommend you choose a preferred delivery date at least one or two days prior to the date it is needed. This is to avoid your own disappointment in the event of courier error or delayed delivery.
Most deliveries are made during the working week, although you can opt to pay £40 for Saturday delivery. If your preferred delivery date is a Saturday or Sunday and you haven't paid for this at checkout, we will dispatch the tree to arrive the preceding Friday. If you want the tree on a Saturday, please ensure you select a Saturday AND that you choose the £40 Saturday delivery option.

On receipt please check before signing.

Special delivery instructions cannot be guaranteed.

'Leave without signature' instructions are at own risk. However, we do strongly recommend that you instruct the courier (via a note at the checkout) to leave the tree in a safe place if possible, otherwise the tree has to be returned to us before being re-dispatched. This causes significant delay and extra cost.

Please inform us of non-delivery within 4 working days of required date, and of any complaints within 4 days of delivery.
We can not accept responsibility for third party actions.
*It may not be possible on busier days to despatch orders made after 10am same-day.